Here is a selection of some of the best books published in the past year, for all ages from babies to Young Adults. Which one will you ask Santa for?
😉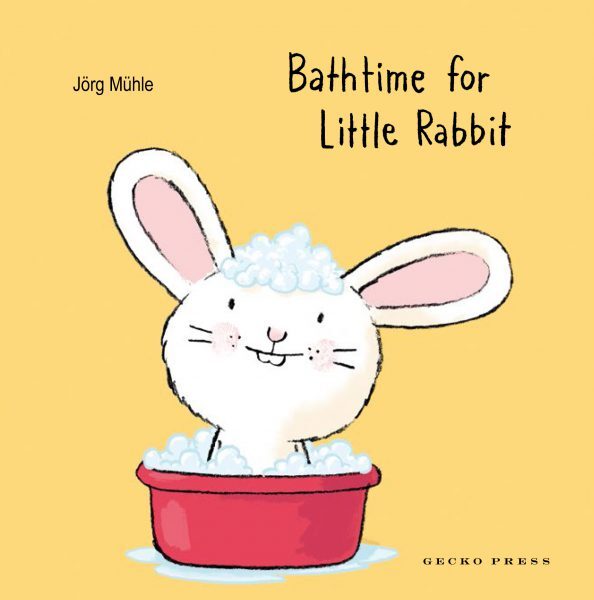 Bathtime for Little Rabbit
by Jörg Mühle
Little Rabbit is going to have a bath and he needs your help if he is going to be squeaky clean! Can you help him turn the tap? How about blowing away the bubbles on his head? And can you rub him dry? A lovely, interactive book for very little ones! (ages 0-3)
Yoga Babies
by Fearne Cotton and Sheena Dempsey
'We're the yoga babies, see what we can do!' Roll out your mats and pull on your yoga pants for this one! Follow a tribe of babies as they try a range of simple poses explained through bright, friendly illustrations and a bouncy rhyming text. Whatever the mood (cranky, lazy or over-excited), there's a pose for that! (ages 2-6)
Triangle
by Mac Barnett and Jon Klassen
Cheeky Triangle, who lives in a triangular house with a triangular door and triangular windows, wants to play a good joke on its friend Square (who lives in a square house, etc.). This is a really funny story where the humour is carried by very few words and wonderfully expressive minimalist pictures. This new book from the award-winning duo who gave us the brilliant Sam and Dave Dig a Hole is a gem! (ages 4-7)
Jabari Jumps
by Gaia Cornwall
Jabari has passed his swimming test. He is ready to jump off the diving board. At least, that's what he's saying… It will take the gentle guidance of his dad and his own pluck to help Jabari through his self-appointed challenge. Fabulous illustrations of a sunny day at the pool will have you long for summer. (ages 4-7)
Charlie and Mouse
by Laurel Snyder and Emily Hughes
Follow brothers Charlie and Mouse as they go about their day, attending an imaginary party or trying to make a couple of coins selling rocks. Three stories in a book that will bring lots of smiles to young readers' faces (and their grown-ups', too). Charlie and Mouse is ideal for beginner readers who can combine sounding out and their knowledge of tricky words to make their own way through the book. (ages 5-7)
This Is How We Do It
by Matt Lamothe
How do kids around the world go to school? What do they wear? What games do they play? And what do they get for breakfast? Find out all about it and much more in this beautiful book following one day in the lives of real families in Japan, Uganda, Russia, Iran, Peru, India and Italy. (ages 5-8)
An action-packed and magic-filled adventure featuring Morrigan Crow who is a perfectly nice and normal girl except… except that she is cursed! Anything that goes wrong (from burnt toast to heart attacks) is blamed on her and to top it all she is meant to die on her eleventh birthday. It's no fun being Morrigan Crow! But then the mysterious Jupiter North turns up and everything changes… If you've loved Harry Potter, this is one for you! (ages 9-12)
When Fidge finds herself accidentally falling into a magical world in her awful cousin Graham's basement, the last thing she expects to meet is a bunch of toys from her little sister's bedroom. Toys that have somehow come to life and, for some of them, developed very nasty personalities. There's tons going on here and it's so, so funny. A brilliant read! (ages 9-12)
Sisters Kale and Jaundice Bland LOVE their very boring lives: always the same, always predictable, no surprises, be they good or bad. But when they get kidnapped by a bunch of crazy pirates, things are thrown upside down and they don't like it one little bit. Come aboard for a zany adventure, you won't regret it! (ages 9-12)
Meet the Lotterys, a family of two dads, two mums and seven children, plus an assortment of pets all living in the rambling house of Camelottery. Life is a bit mad for narrator Sumac with so many siblings and grownups to deal with, but it's nothing compared to what happens when Grumps (a cranky grandad she's never met) comes to live with them. (ages 12+)
Elliot's life is hard enough as he tries to hide the fact that Mam is slowly but literally losing her mind. Yet things are going to get a lot more complicated as a young Greek goddess lands in his garden shed and as they accidentally free the Daemon of Death from his millennial prison under Stonehenge. Cue a mad race to track him down and bring him back behind bars with the help of a crew of mad gods who are nothing like what you'd expect. Action-packed and hilarious! (ages 12+)
Squirrel Girl has the tail of a squirrel and its amazing abilities for jumping, running, gliding and stocking nuts in her cheeks. But Squirrel Girl can't let anyone know about her powers. She's just moved to a new town where she's trying hard to blend in, make new friends and figure out where the recent wave of crime is coming from. Squirrel Girl is awesome and super funny, and it pokes fun at Iron Man: what's not to like? (ages 12+)
Hakima, Mireille and Astrid have been voted winners of the Pig Pageant, that is to say ugliest girls in school. Once the initial shock of the news has subsided, what are the girls going to do about it? Mireille has the answer: they're going to show the rest of the world that they don't care! Follow the girls as they hop on their bikes for a hilarious road trip through France, it will put a spring in your step! (Ages 14+, Young Adult)
For more great book ideas,
head over to Inis magazine
, where you will find books for all ages in English and Irish. Your local library should also have a copy of this year's Inis Reading Guide, which contains over 250 quick reviews of books for babies to young adults: picturebooks, early readers, chapter books, big, fat novels, fact books and poetry.